Welcome to the FloodCast Resource Page
Project Background
Flooding has a significant, damaging impact on our nation's transportation infrastructure. Although there are data, tools and models available to forecast weather and climate conditions, in many states these tools have yet to be integrated with state DOT asset data and communication systems. In order to bridge this gap and improve state DOT flood planning, risk management, mitigation and preparedness operations and emergency response activities, National Cooperative Highway Research Program (NCHRP) initiated the Project 20-59(53) entitled FloodCast. Key objectives of the FloodCast project were to:
Leverage best practices from communities that deliver early warning information on impacts to transportation systems;
Identify data users, sources and information streams needed to produce a flood situational awareness system;
Advance research in meteorological forecasting, sensor telemetry, hydrologic/hydraulic modeling, hazard identification, asset management, and risk mitigation; and
Identify near term improvements to the current state of systems, data and tools, while ensuring delivery of a framework that anticipates the evolution of that state.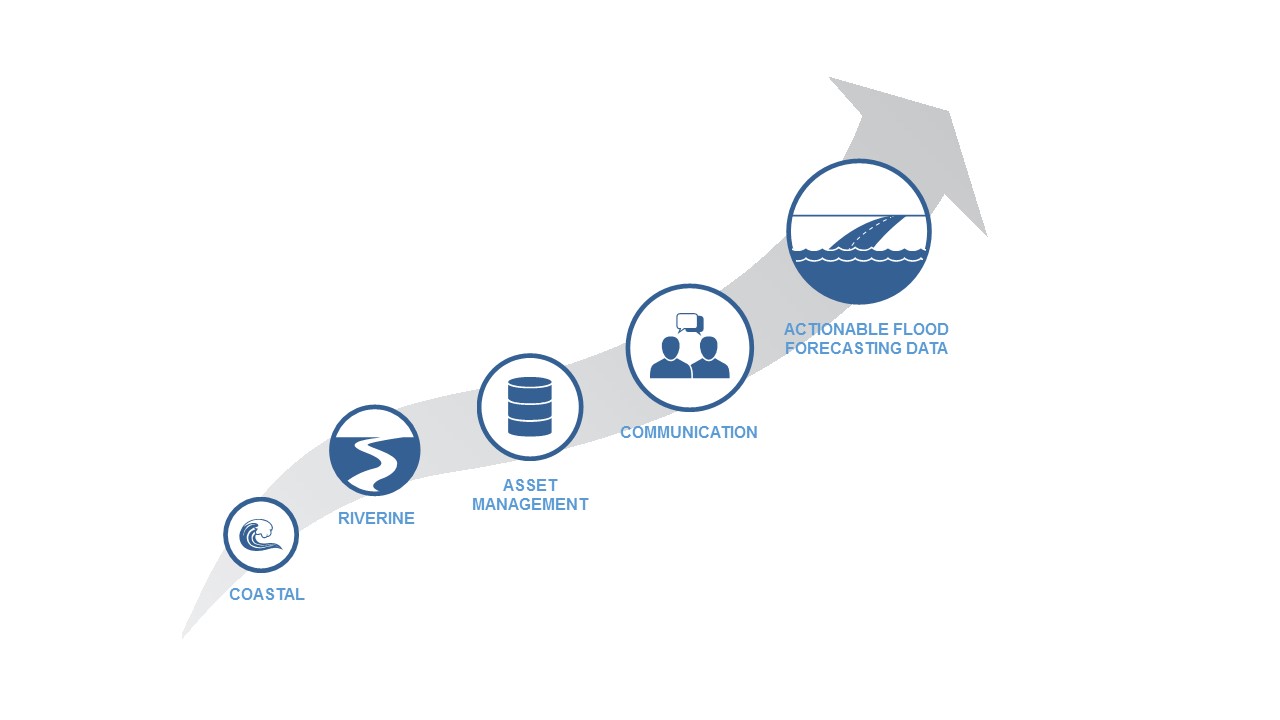 Beginning in 2014, the FloodCast project has completed 3 phases of work. In Phase 1, the research team: researched and documented existing resources for flood event planning, response, and operations relevant to the transportation context; conducted a gap analysis and prioritized practitioner needs versus capability of existing resources to meet those needs; developed a framework and architecture to organize existing resources; and developed recommendations for further research that can be carried out within the project timeframe and in work subsequent to this project.
In Phase 2, the research team started by closing any necessary gaps in the research conducted in Phase 1, ensuring that there was a sound, defensible platform for the work performed in Phase II. Subsequently, the research team designed and developed the FloodCast prototype system along with a practitioner guidebook on best practices for producing actionable information based on available resources.
Lastly, during Phase 3 of this work, the research team developed a Capability Maturity Model (CMM) to help state DOTs define the key data, technologies and practices required to effectively achieve floodcasting progress over time; performed a Requirements Analysis to identify, from a State DOT perspective, the capabilities a flood forecasting and response platform should have to support State DOT response, recovery and mitigation activities; and identified data standards and specifications that would ensure an interoperable and scalable framework.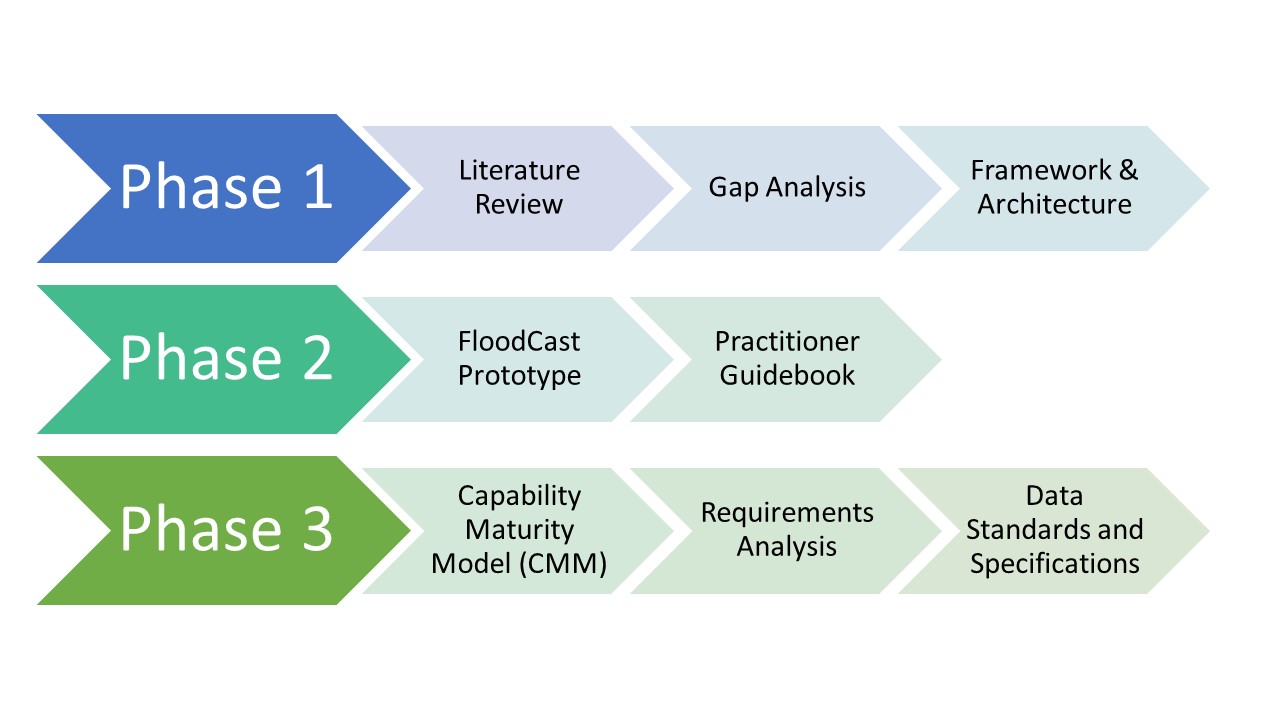 The FloodCast project resulted in numerous resources intended to build flood forecasting and response capabilities for State DOTs. This webpage serves as the one-stop shop for FloodCast project information, making the products and resources discoverable to State DOTs and the larger community. A summary of each resource along with a download link is provided in the Resource Library below.
Resource Library
NCHRP 20-59(53): FloodCast Technical Memorandum I (July 2015)
This memorandum presents tools, methods, and models to support forecasting, operations, and response activities, as well as support pre- and post-event mitigation planning and risk reduction.
NCHRP 20-59(53): FloodCast Interim Report (July 2015)
This interim report summarizes the tasks developed throughout the FloodCast project: technical memorandum (tools, methods, data, and models for flood event planning, response, and operations); gap analysis and practitioner needs; a framework for organizing existing resources; and recommendations for further research.
NCHRP 20-59(53): FloodCast Practitioner Guidebook (October 2016)
This report develops a proposed strategic framework and data architecture for enhanced flood event decision making tailored for transportation system use. This framework can be used to help a wide variety of users that are involved in transportation and emergency management.
NCHRP 20-59(53): FloodCasting Capability Maturity Framework (February 2017)
The technical memorandum present the approach for creating a Capability Maturity Model (CMM) framework that facilitates DOT self-assessment and identifies activities and products DOTs can need in order to reach their desired levels of flood forecasting capability or "level up" to the point where they can fully participate in an operational FloodCast program.
Capability Maturity Model (CMM) Tool
An Excel-based CMM online tool enables State DOTs to self-evaluate current flood forecasting capabilities related to meteorology, hydrology and hydraulics, asset management, communication and information transfer, and incident management (Matrix tab), as well as to identify strategies focused on practices, technologies and data (Action tab) to support DOTs in planning for, responding to and operating during floods.
FloodCast Prototype Tool
The FloodCast prototype is a web-based platform that combines high quality forecast data with dissemination tools to support effective emergency response by transportation practitioners. By delivering forecast data, predicted floodplains and analytics of affected transportation assets, decision-makers can receive timely intelligence to better respond to forecasted and ongoing flood events.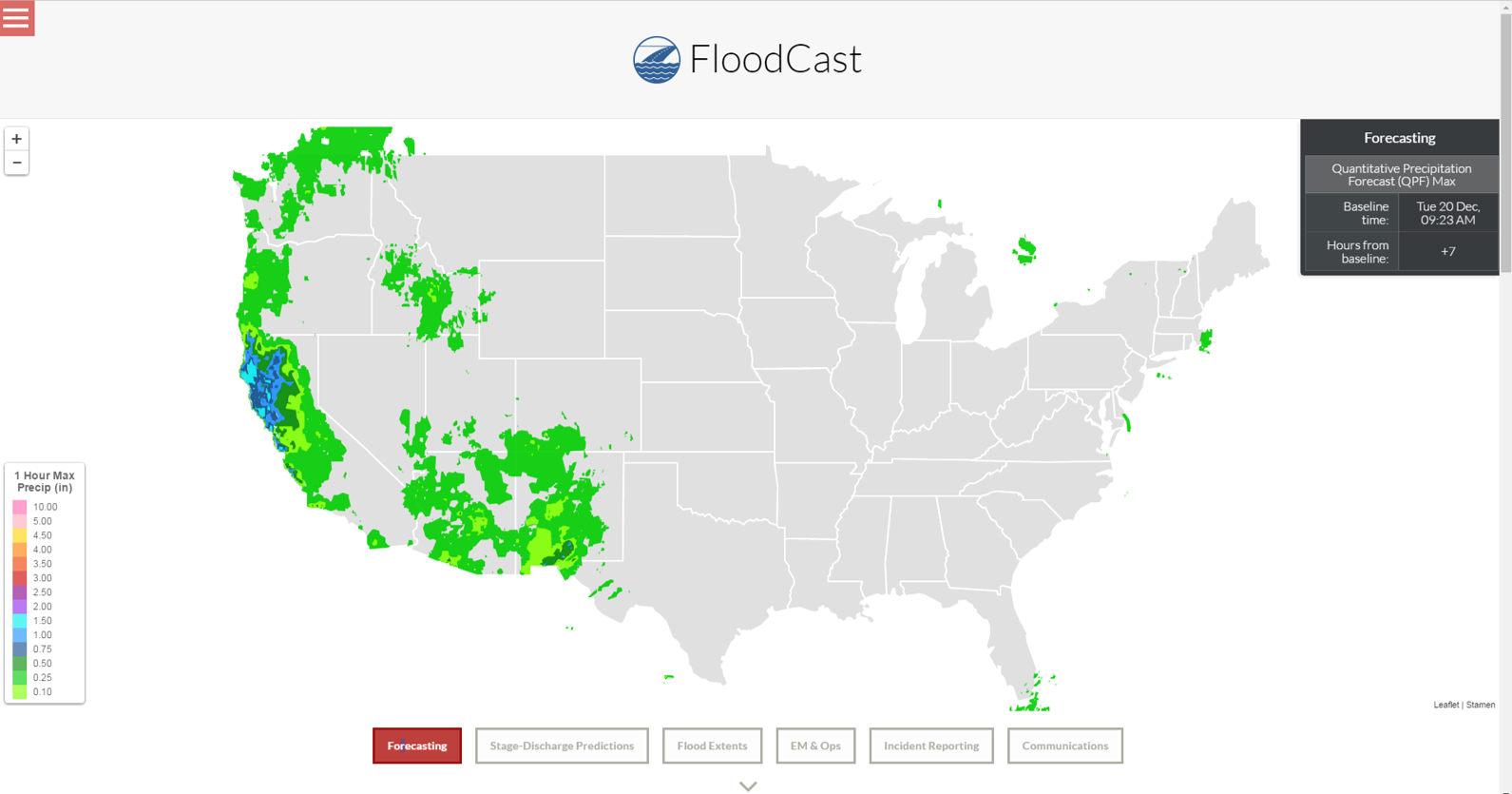 For detailed guidance on how to use the web-based FloodCast Prototype Tool, please see the NCHRP 20-59(53): FloodCast Framework for Enhanced Flood Event Decision Making For Transportation Resilience, Practitioner Guidebook (October 2016)
Access the tool by clicking here.
FloodCast Prototype Tool Demo
The study team provided demonstrations of the FloodCast prototype system to facilitate discussion of DOT requirements. This is a webinar recording of the demonstration.
Download the webinar recording here:
NCHRP 20-59(53): FloodCast Requirements Analysis (May 2017)
This technical memorandum present survey results with the State DOTs on their perspectives and capabilities of flood forecasting to support DOTs response, recovery and mitigation activities. The data on requirements collected and documented in this report reflect the critical inputs towards developing a mature FloodCast program that could be maximally useful at the national scale.
NCHRP 20-59(53): FloodCast Data Standards and Specifications (April 2018)
The technical memorandum documents the data standards and specifications that were developed for the FloodCast tool. It presents a review of existing open data standards for each of the five FloodCast capability dimensions and it aligns with DOT needs to ensure that state and local DOTs have a clear and efficient path forward for participating in FloodCast. This report is highly relevant for transportation and emergency management practitioners, as well as for academic and research institutes.
FloodCast Example Dataset in Environmental Linked Features Interoperability Experiment (ELFIE)
The study team collaborated with the Open Geospatial Consortium's (OGC) ELFIE initiative led by the Hydrology Domain Working Group (Hydro DWG) to ensure the data standards and specifications developed for FloodCast would be as open and widely accepted as possible. Within the ELFIE framework, new domain feature types specific to floodcasting were established. Each feature type within the ELFIE context has standard relationships established to show how flood forecasting data relates to transportation asset data.
The FloodCast JSON-LD content are provided in the ELFIE wiki and GitHub repository here.
The OGC ELFIE Engineering Report here. 
FloodCast ELFIE Use Case Demonstration
The study team developed a demonstration video in cooperation with the USGS showcasing the important data elements, feature types and relations in the FloodCast-ELFIE use case.
Download the demonstration video here
FloodCast in the News: AWRA IMPACT Article (January 2018)
This journal article published in Water Resources IMPACT (Vol. 20, N° 1, pp. 12-13) focuses on presenting applied approach and main findings of FloodCast project, together with future opportunities for refining and improving the FloodCast Prototype Tool, which can help efficiently reduce flood impacts to transportation infrastructure and its users.
Download the article here.
NCRHP 20-59(53): FloodCast Final Report (July 2018)
This report provides a summary of the FloodCast project by describing the project approach and delineating principal findings. The FloodCast project resulted in numerous deliverables intended to build flood forecasting and response capabilities for State DOTs. The primary purpose of this report is to summarize the outcomes of the FloodCast project and make these products discoverable to the larger community. Hyperlinks in the report link back to this website.